Best price
Samsung Wireless Charger Convertible
Free shipping all over Pakistan
Easy return and refund policy
Universal Flat 8% OFF at Cash on Delivery available at checkout
Samsung Wireless Charger Convertible *Detachable Design (9W FAST)
Take your pick of charging positions
With the detachable magnetic kickstand, you can choose to use the Wireless Charger Convertible as a pad or a stand. Prop up your phone to keep watching while you charge, or lay it flat to give it a rest.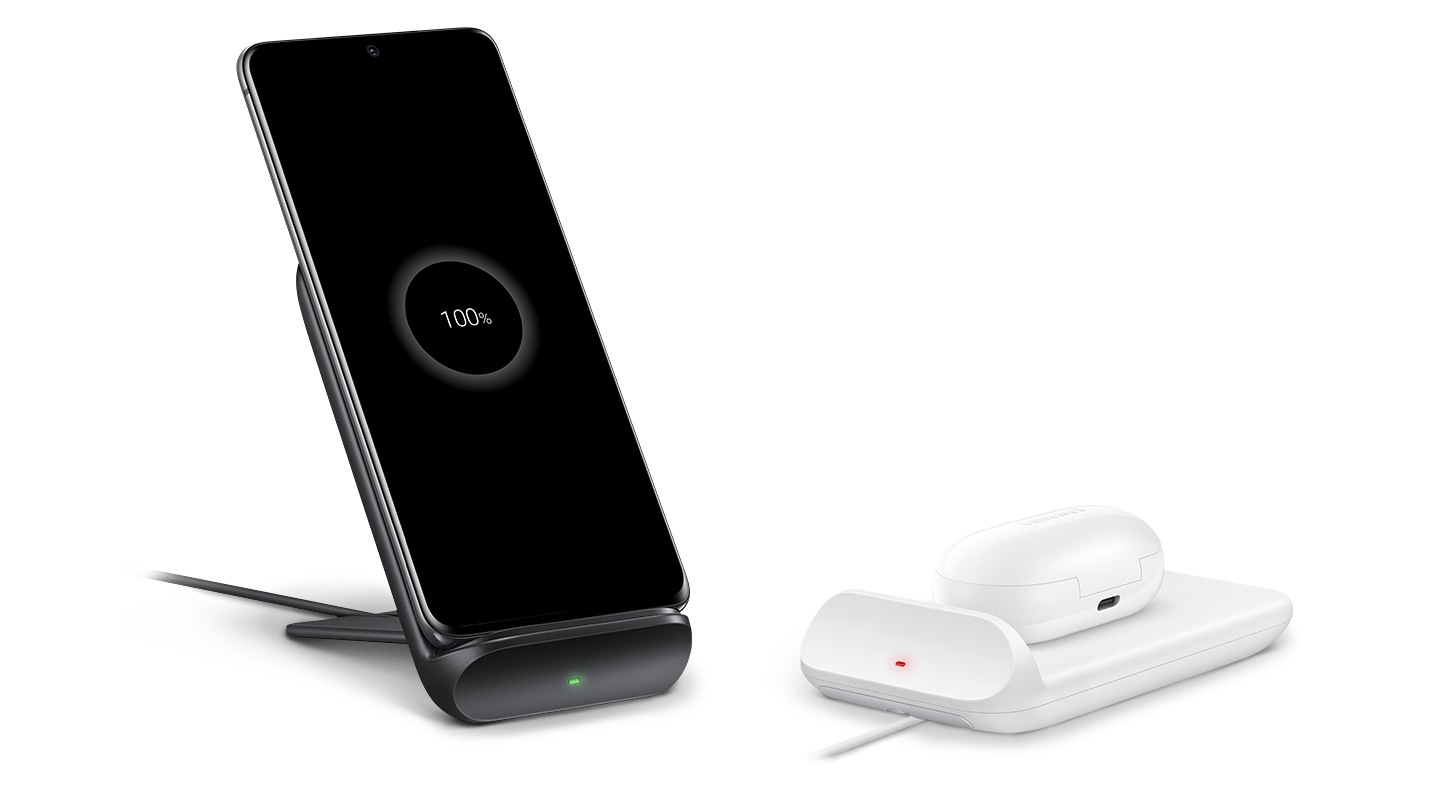 *Galaxy Buds and Buds+ can be charged in Pad mode.*For safe and fast charging, please use the included AFC (15W) Samsung genuine wired charger and Type-C cable.
Keep watching while you charge
Two charging coils inside allow you to comfortably keep your eyes on the screen without changing the orientation. Place it in landscape to finish your TV show or, if you're in the middle of a video call, you can keep your phone upright.
Place it down, charge up fast
Get back to your work or playtime quickly with the Fast Wireless Charging capability. Harnessing a maximum of 9W of power, it helps ensure you don't have to wait too long to get back to 100% battery.
*Charging speeds may vary by device. Actual charging speed may also vary depending on usage, charging conditions, and other factors.*Based on internal testing with Galaxy S20+ models, Fast Wireless Charging is up to 170% faster than regular wireless charging.*Compatible with Apple devices with wireless charging support up to 7.5W fast charging.
Dim the lights at night
The Wireless Charger Convertible features an LED light to indicate whether your Samsung smartphone is using Fast Wireless Charging. When it's bedtime, you can turn off Fast Wireless Charging — which dims the LED light — for a better sleep.
*LED dimming function only available on Samsung Galaxy S10 smartphones or higher.
Colors keep you in the know
The LED light on the front intuitively tells you the charging status of your device with different colors: red for charging, flashing red for charging error, and green for fully charged.

Qi-certified for safe charging and sharing
Engineered with Qi technology, you can charge up your phone with a safe and reliable experience. Plus, you can share a powerup with your friends and family, or even other Qi-certified devices.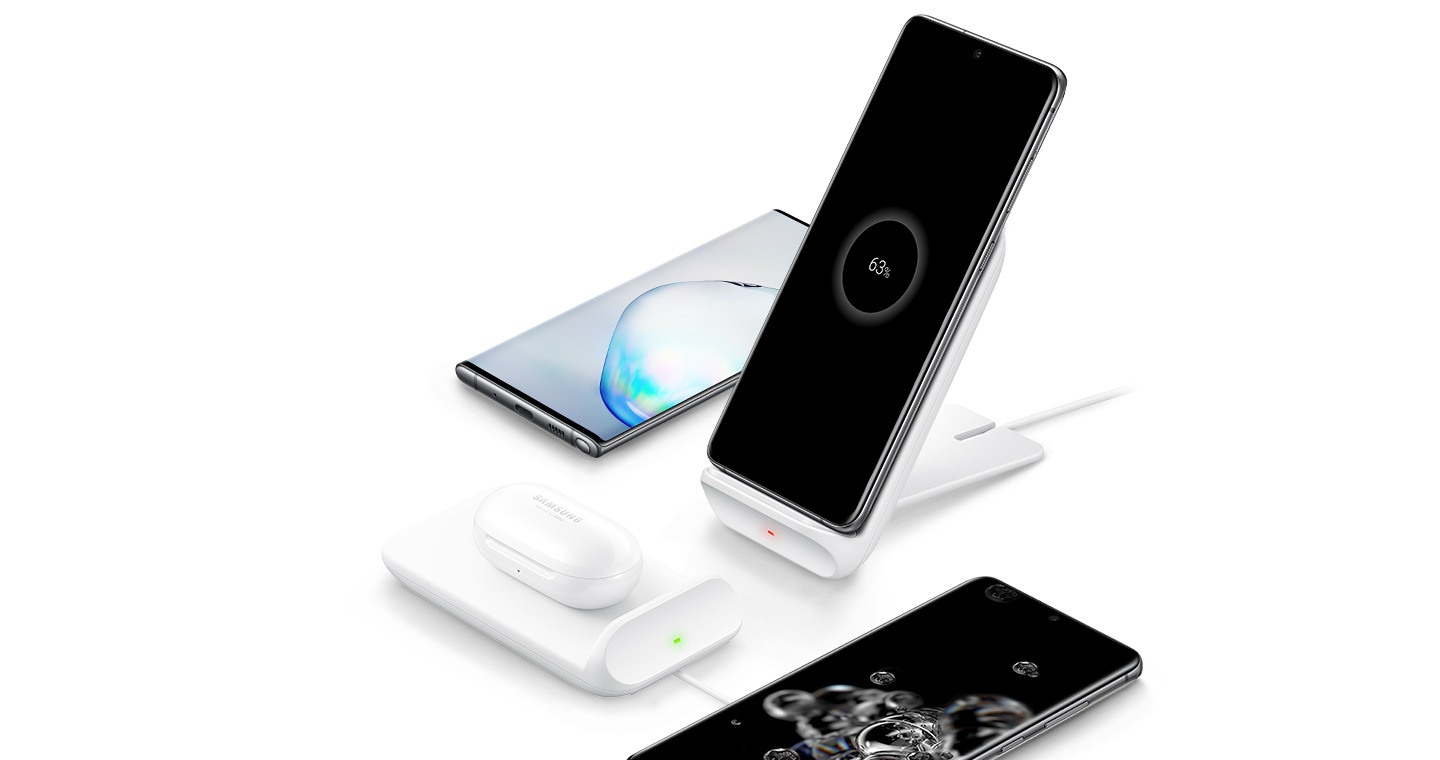 *Galaxy Z Flip can be charged in a folded shape only.
Colour 

Black

Compatibility

Repersentitive Models 

Galaxy S20, S20+, S20 ultra

Compatible Models 

Fast Charge compatible with Galaxy S20, S20+, S20 ultra, Note 10+, Note 10, S10e, S10, S10+, S10 5G, Note9, S9, S9+, Note8, S8, S8+, S7, S7 Edge, Note 5, S6 Edge+, & Apple iPhone 11 pro, 11, SE, XS Max, XS, XR, 8, 8 Plus / Qi compatible with Galaxy S6, S6 Edge and Qi certified devices

General Feature

Features 

Wireless Fast Charging (Samsung Galaxy, Apple iPhone), Qi, Portrait/Landscape Stand, Detachable stand

Interface 

USB Type-C

Packaging Contents 

Wireless Charger Stand, 15W Wall Charger, USB Cable, Quick Start Guide

Physical specification

Cable Length

1 m

Dimension (WxHxD)

70 x 127.1 x 29.11 mm

Weight

169.16 g

Power

Input Voltage (Max, Fast Charge)

9 V

Input Current (Max, Fast Charge)

1.67 A
Samsung-Convertible-Wirelss-Charger-price-Pakistan-modernwears.pk-2
Return Policy And Warranty Claim
*Return policy is simple. Make sure that you can only claim the product within 24 Hours after that request will be not accepted.
All the mobile phone we delivered are original phones with its official warranty.
The product must be in its original condition.
If you receive an electronic item in damaged/ broken, expired condition or any product that does not match its description, you can return it within 24 hours for replacement / exchange.
For complain, contact us through the official phone number or place an email at contact@modernwearspk-a5ab46.ingress-erytho.easywp.com
If you failed to contact us through phone number then must drop an email to us within time limit.
For complain you have to mention your order number and proper reason for returning the product.
The product that is imported from china have only 24 hours check warranty after that no claim will be accepted.
The electronic products that have 6 months or 1 year brand warranty will be claimed by yourself at that brand's service center.
If the parcel is open or unsealed than must inform us.
 If the product is broken during shipping or some item is missing in the parcel then inform us the relevant query.
Mobile warranty will be claimed to their company's service center.
Return is only possible if the product is unopened.
Return of opened products only possible if a fault is found.
If fault is claimed in a non-faulty order then shipment charges will be paid by the customer.
For returning a product shipping charges is paid by the customer.
You can ship it to us using any courier service.
Refund policy
The amount of any product will not be return.
Your faulty product is replace with new one within couple of days.
You can also get a voucher of that amount and buy any other product using that voucher.
For getting voucher you must have to contact us
for more products reviews
and for similar products
Vendor Information
Address:

4.65 rating from 162 reviews