Best seller
Non Electric Foldable Foot Massager – foot spa
Non Electric Foldable Foot Massager – foot spa
Delivery Will Be Done In To 5-6 Days
Non Electric Foldable Foot Massager – foot spa
💦Eco-Friendly Material: PP+TPR, Foldable Design, The Folding Size is 17.7 Inches x 14.9 Inches x 3 Inches, Weighs Only 3 Pounds.
💦Foot Soaking Bath has Six Massage Rollers and Exfoliating Blocks, You Can Rub Your Soles on These Rollers. It Can Remove Dead Skin Cells and Puts Pressure on Certain Parts of The Sole, Helps to Soothe and Relax Your Feet.
💦Soaking The Feet is Good for Relieving Foot Pain and Aches. Effective Reduce Numbness, Soreness, And Fatigue Symptoms of The Feet And Legs. After Running, Climbing and Hiking, Take A Foot Bath!
💦This Foot Bath is Lightweight and Portable, You Can Use It At Home And Also Suitable for Camping Outdoor Travel.
💦How to Fold/Unfold: Put It Upside Down, Unfold Two Legs And Push Down to Fix The Legs, Then Unfold The Bucket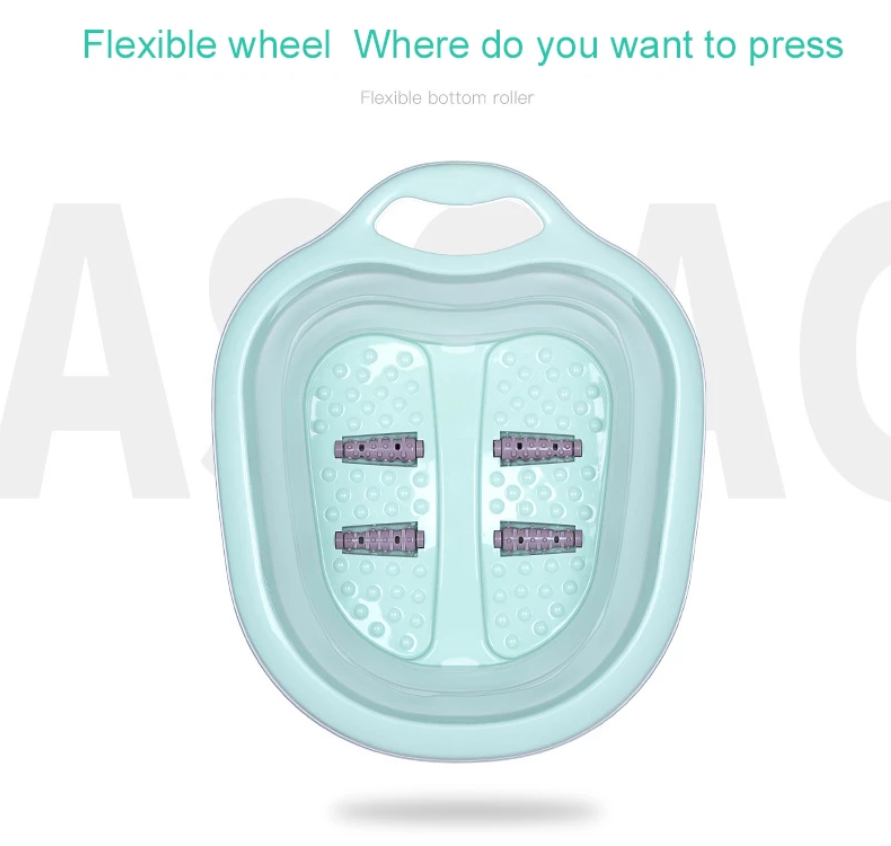 Indulge in the ultimate relaxation with our foot spa foot massager. Treat your feet to a rejuvenating experience with our state-of-the-art machine. Say goodbye to sore feet and hello to blissful relaxation with our innovative product.
Our non-electric folding foot massager machine is perfect for both men and women. It features rollers and spa-like functions that will soothe and revitalize your tired feet. With its convenient folding design, it's easy to store and transport, making it ideal for home or travel use.
Experience the 2-in-1 benefits of our foot massager, which combines the best of both worlds – a relaxing foot bath and a pleasant foot massage. Immerse your feet in warm water, and let the rollers and steel balls gently massage away tension and stress from your soles, heels, and arches.
Our foot massager is also perfect for pedicure enthusiasts. The gentle rollers and spa-like functions provide a pampering and cleansing experience for your feet. Use it as a foot massager tub to wash and clean your feet, while also promoting healthy-looking skin and unclogging pores with its body cleansing massager and mini beauty foot massager spa.
With its ergonomic design, our foot massager is easy to use and provides a soothing sensation that promotes relaxation and stress relief. Simply roll your feet over the rollers and let the machine work its magic. It's a perfect addition to your self-care routine, offering a spa-like experience in the comfort of your own home.
Pamper yourself and prioritize your foot health with our foot spa foot massager. Regular use can improve blood circulation, relieve foot pain, and reduce stress and tension. Treat yourself to a refreshing and rejuvenating foot spa experience whenever you need a moment of relaxation and self-care.
Invest in the best for your feet with our foot spa foot massager. It's a versatile and effective solution for foot care, pedicures, and relaxation. So why wait? Treat yourself to the ultimate foot spa experience with our innovative and convenient foot massager machine today and step into a world of relaxation and rejuvenation.
Non Electric Foldable Foot Massager – foot Massager spa
Return policy is simple.

All the mobile phone we delivered are original phones with its official warranty.
The product must be in its original condition.
If you receive an electronic item in damaged/ broken, expired condition or any product that does not match its description, you can return it within 24 hours for replacement / exchange.
For complain, contact us through the official phone number or place an email at admin@modernwears.pk
If you failed to contact us through phone number then must drop an email to us within time limit.
For complain you have to mention your order number and proper reason for returning the product.

Refund policy

The amount of any product will not be return.
Your faulty product is replace with new one within couple of days.
For getting voucher you must have to contact us